Track record of Ivan Zurita,
president of Nestlé Brazil
Learn about the incredible practices of a man born and made in the world's largest food company.
In 1866, a pharmacist named Henri Nestlé came up with the idea of mixing milk with wheat flour and sugar to create a food supplement that would feed babies whose mothers were unable to breastfeed them. That was how the Nestlé company came to be in the Swiss city of Vevey, and went on quickly to expand throughout the world. Given the nature of its first product, and as the name Nestlé means "small nest" in Swiss German, it was only fitting that the logo chosen by the company to identify itself would be an illustration of two chicks in a nest being fed by their mother. In the 144 years since, this nest grew to hold a number of characters that are a long way from that endearing image of baby birds.
One of the privileged tenants of the nest is a man by the name of Ivan Fábio de Oliveira Zurita. He was born 56 years ago in Araras (in the Brazilian state of São Paulo), the very city where Nestlé opened its first Latin American factory back in 1921, and where Zurita's father and grandfather were also born. Curiously enough, the factory was built on Zurita Avenue, named in honor of our character's grandfather. Iván Zurita joined Nestlé in 1972, quickly climbing to the highest positions in the company: from Brazil he went on to work in the company's Chilean, Argentinean, Central American and Mexican subsidiaries. In Mexico he made it as high as president and CEO. In 2001, he went back to his native Brazil, where he was appointed president and CEO of Nestlé Brazil and has remained in that position ever since.
In his capacity as president of Nestlé Brazil he's been awarded several prizes and honors. Among these is the "Business Leader" distinction, awarded last October by the magazine Carta Capital, which selected him as one of "Brazil's most admired entrepreneurs and executives" (further down we'll see just how well Zurita does in both categories). At the award ceremony, national president Luiz Inácio Lula da Silva and several of his ministers were present.
A month later, in the offices of Nestlé's factory in Araracuara (a neighboring city of his native Araras), the municipal parliament awarded Zurita the title of "Distinguished Citizen of Araracuara," in the presence of municipal legislators of every political party with representation. The recognition was prompted by Nestlé's decision to build a new factory in the city. According to the news coverage, when Zurita received this distinction, he conveyed a message of greeting to the population of Araracuara from the popular singer Roberto Carlos, who had recently performed in a show sponsored by Nestlé.
In 2001, the Rio de Janeiro parliament had also named him distinguished citizen of that state, recognizing him "for services rendered to the country."
The Afro-Brazilian Social and Cultural Development Association (Afrobras) also decorated him, along with a group of other people, for contributing to promote "values such as respect for diversity, tolerance and equal opportunities for all, and his contribution to the moral and social improvement, and socio-economic, cultural and educational advancement of Afro-Brazilians."
| | |
| --- | --- |
| | Zurita CEO |
Is Zurita's performance as president of Nestlé Brazil really worthy of all the honors bestowed upon him? We seriously doubt it, and are rather of the idea that some of the awards and titles should be reconsidered. Let's go over some facts:
· When Zurita was appointed president of Nestlé Brazil, one of his first executive acts was to fire 800 workers, only to later hire nearly the same number of employees. This measure was seen as a direct demonstration of power. "A lot of people in there are afraid of Zurita," a supplier told a reporter of Portal Exame magazine at the time.
In 2008, for the second time in less than a year, Nestlé Brazil was fined for reducing the weight content of some of its products - for example, its product Neston 3 Cereais was cut from one kilo to 900 grams. In a letter to Elio Gaspan, the journalist who reported the product tampering, Zurita claimed the fines were subsequently cancelled.

Last May, Nestlé Brazil was fined by the Labor Ministry for violating the "Conduct Adjustment and Work Environment Terms" agreement, signed in 2007 with the union, in which the ministry acted as performance guarantor. (See Ministry of Labor fines Nestlé for forcing workers to work long hours)

Also last year, to promote the brand Ninho (nest in Portuguese), and carried by his irrepressible histrionics, Zurita posed for a controversial photograph featured in the cover of the May issue of the magazine Dinheiro Rural, which readers found appalling.
So, his record as a CEO can hardly be described as commendable.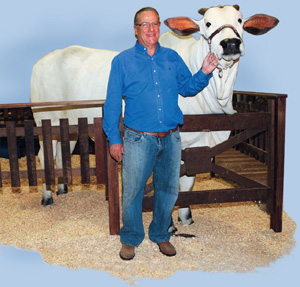 Zurita businessman
Zurita is also a successful businessman. It all started when he decided to purchase a ranch in Araras to breed premium Simmental and Nelore cattle, with animals worth as much as one million reais (approximately 581,000 US dollars). In order to buy the ranch, Zurita borrowed directly from the coffers of Nestlé, with the approval of Nestlé's then global president Peter Brabeck. "I'm friends with Brabeck and he knew that this was my dream," Zurita declared. As far as we know, no other Nestlé employee has been given the chance to make their dream come true, neither before nor after Zurita's purchase, regardless of how modest the dream, not even one as modest as not losing their job.
As told by Zurita himself, every Friday he sheds his suit, shoes and ties in São Paulo and heads out to Araras all geared up in his rancher outfit. He now owns the company Agrozurita, which has an annual turnover of 70 million reais (some 40.66 million US dollars). Agrozurita also breeds prime cattle, operates a sugar cane alcoholic beverage (cachaça) distillery that produces Cachaça do Barão1, markets a line of meat products, and grows oranges for industrial purposes.
In addition, Zurita has been organizing cattle auctions for some years now. One of his last auctions took Araras by storm, as 1,500 guests flocked to the city by land and air, including in 32 helicopters and 19 planes. Taking advantage of the connections that his position at Nestlé affords him, Zurita conducts what he calls a "marketing of business relations." In addition to numerous entrepreneurs, his cattle auctions are attended by a constellation of show biz celebrities, such as the famous TV presenters Fausto Silva, Ratinho, Hebe Camargo and Ana Maria Braga, the comedian Tom Cavalcante, and the well-known children's performer Xuxa, among others.
Some of these stars are also hired by Nestlé for its advertising campaigns. This is the case of Pelé, for example, who is representing the transnational corporation through 2014 as sponsor of the Brazilian soccer team, with an annual investment of 400 million reais (about 232.35 million US dollars). Another example is the singer Roberto Carlos, who has appeared as spokesperson in Nestlé's advertising campaigns and regularly attends the auctions held by Agrozurita. Not only that, Roberto Carlos is one of the shareholders of Agrozurita and owns of some the breeding cattle.
Another marketing activity conducted on behalf of Agrozurita is the "Baron Brotherhood," formed by a hundred celebrities and powerful individuals from the world of business, including Ratinho (who owns cattle "housed" in Zurita's ranch and travels every weekend to Araras in his private jet to see his animals) and Benjamín Steinbruch (CEO of the steel company Companhia Siderúrgica Nacional). The group meets every Tuesday at the Agusta club, owned by entrepreneur and playboy Alvaro Garnero, to drink cachaça distilled in an old property owned by the president of Nestlé.
Zurita has apparently achieved an aspiration expressed by Roberto Carlos in his well-known pop song, where he dreamt of having "a million friends." Could his position as president of Nestlé have anything to do with this? The company invests some 203 to 262 million US dollars a year in advertising in Brazil, so we wouldn't be far from the truth if we ventured that Zurita took advantage of the "trickle down" effect of this fabulous figure to promote his own businesses and, as we'll see below, feed his enormous ego.
"I'm the law"
On Feb. 2, Zurita celebrated his birthday in the exclusive Café de la Musique, in the city of São Paulo. His guests greeted him all decked out as cowboys under a sign that read "A little over 5 decades." The party was entertained by the country music duo Fernando & Sorocaba, which normally charges 70,000 US dollars per performance.
The birthday boy - who arrived in a suit and tie, but quickly changed into a plaid shirt and cowboy hat - was delighted when his guests acknowledged his power by pinning a sheriff star on his chest. The star and title of sheriff were also featured as the birthday cake's decoration. Such arrogance and bad taste - most likely born from the power of money -may explain the incredible developments that took place some months later.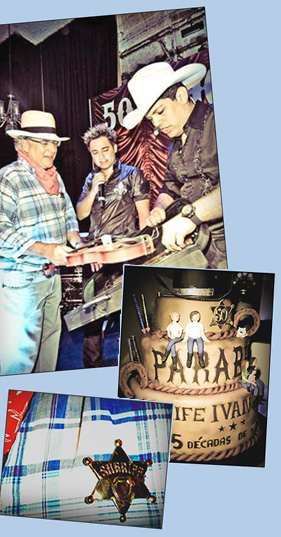 An outlaw sheriff
It only took 190 days for the new sheriff to show his disregard for the law and his total lack of consideration towards his fellow human beings. In mid August, the Mobile Rural Control Group, a team acting under the Labor and Employment Ministry, conducted an operation with the support of both the Federal and the Military Police, in response to a report by the Araras Rural Workers Union. Through this action, the group discovered a number of work irregularities in several orange plantations in the state of São Paulo, more specifically in the cities of Aguaí, Araras, Conchal and Mogi Guaçu. Two of these plantations, one in Aguaí and another in Araras, are owned by Agrozurita.
In the Aguaí plantation - Campo Alegre or 'Happy Field' - the inspectors found 55 people working without being properly registered as workers, pursuant to the law. Moreover, the workers had no drinking water or sanitary facilities. The inspectors also found that the workers lacked proper cafeterias and adequate protective gear, besides other irregularities detected. Another serious infraction found was a fraud being committed in the workers' pay, as they were being cheated through deliberate miscalculation of their wages. Instead of calculating wages based on 27-kilo sacks of oranges, as stipulated, the pay was being calculated on the basis of 34-kilo sacks. According to the inspectors, a foreman tried to clear out the workers before the inspection took place, thus proving that he was fully aware of the illegal working conditions in the plantation. At the Araras plantation (Santa Cruz), inspectors found that the workers also lacked protective gear and sanitary facilities. A total of 20 infraction orders were issued against Agrozurita.
Spokespersons for Agrozurita told the press that within days they would be submitting documentation to the authorities evidencing that the working conditions at the two plantations were fully compliant with legal provisions. However, in a summary report issued some days later, the Public Labor Ministry2 denied that Agrozurita had presented any documents showing that the workers were properly registered, and that in addition to that irregularity, the company was being charged with an attempt to prevent the inspection, payment fraud, and precarious working conditions in its orange plantations. A settlement hearing was set for Aug. 29, the result of which has not been disclosed.
Alarming
Both as a CEO and as a businessman, Zurita has persistently breached labor laws and has become an expert in reaching agreements with the Labor Ministry to benefit his situation. This, among other things, puts into question his capacity to properly apply the principles of "shared values" that Nestlé so proudly boasts of.
The severity of the situations and incidents described above are cause for great alarm, because what's at stake here is the fate - no less - of the 15,000 men and women who work in Nestlé Brazil. The problem is an absence of morality, honesty and ethics, and adherence to such values cannot be shed as one shed outfits. These values are the same whether you're wearing a suit and tie or jeans and cowboy boots.
In the face of these incidents and situations, those who have awarded and honored Zurita should withdraw the honors bestowed on him. Unless, of course, they choose to pretend they don't see them or look the other way. Afrobras, for example, should look into how many Afro-Brazilians have been cheated in their pay in Zurita's orange plantations. The cities who have made him a distinguished citizen should strip him of that honor.
Nestlé's shareholders, however, face a much more complicated dilemma. They could look the other way, and tolerate Zurita's actions as the antics of Nestlé's own enfant terrible. But if they were to go that way - or if they were to ignore the problem -, the message they would be sending out loud and clear, taking into account that Zurita was able to double sales in Brazil, would be that economic results are the only thing that really matters to Nestlé and its shareholders. If that's really the case, we will be forced to publicly denounce it. And, at the same time, we will have to announce that the company has no business talking of corporate social responsibility.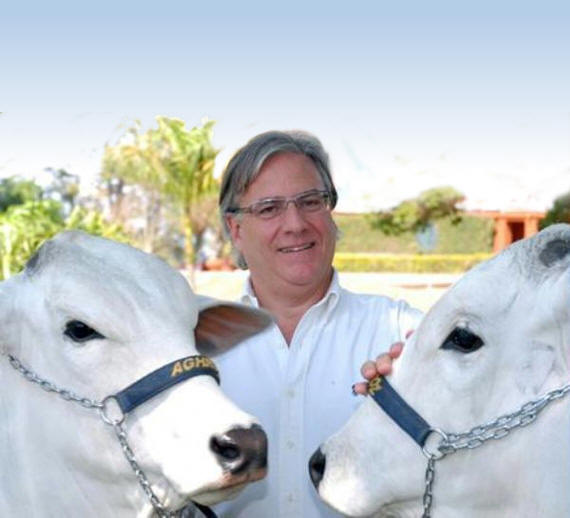 From Montevideo, Enildo Iglesias

Rel-UITA

September 16, 2010
Footnotes:
1 "Baron's Spirits".
2 The Ministério Público do Trabalho (Public Labor Ministry) is a branch of the National Public Ministry entrusted with defending collective and individual rights in the field of labor.
Photos:
1- Istoé Dinheiro, Nº 660
2- Cover of Dinheiro Rural, May 2009
3- caras.com.br
4- ego.globo.com.br
5- Glamurama, 2/MAR/2010
6- poliservice.com.br